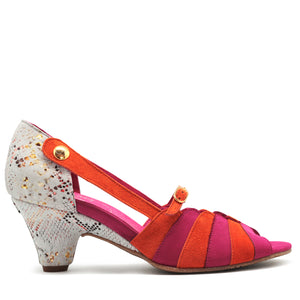 Chanii B "Freya" Fuchsia/Orange Shoe
New arrival!
if you love Fleur, Frise and cerise you will love this new addition.

This new low heel features our flexible rubber sole, which means its extremely comfortable for day to day wear. The fuchsia and orange suede is beautiful and Summery, paired with our stunning suede serpent print, this sandal is definitely eye catching!

Low heel
Flexible rubber sole
Adjustable buckle detailing
arriving May
preorder to hold your size