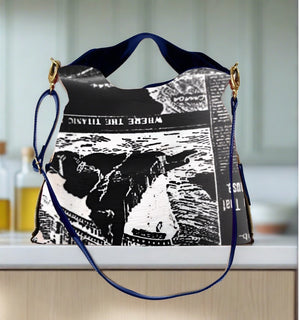 Chanii B "Riche" Black Newsprint - Handbag
This beautiful bag has two ways that you can wear it, one short double handle that tucks away and one long adjustable strap that you can wear over the shoulder or across the body. This bag also has a zipper closure to keep all your valuables safe.

All ChaniiB Riche bags are limited editions!
Made by hand in the Netherlands 
Beautiful interest leather
Double handle function allows you to wear the bag over the shoulder, across the body or hand held
Handmade in Holland.