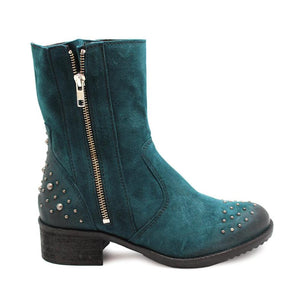 Chanii B "Bonne" Teal Suede Boot
Beautiful teal suede boot with stud detailing on heel and toe.
Thick rubber sole provides comfort and support. warm lining makes this boot wearable for longer time in winter months. This boot has a zip both on the inside and outside, which makes the boot wider or narrower depending on what you want to wear them with. Perfect boot for everyday wear!
Brilliant rubber sole 
Zipper fastening on the outside to make this boot wider or narrower on the calf
Stud detail on the toe and heel 
This boot fits true to size and is good for both a narrow and wider calf