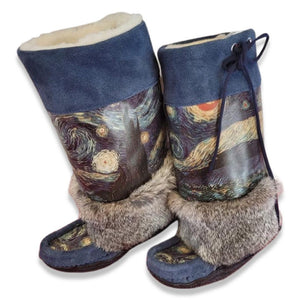 Icon Mukluk "Starry Night"
Icon is back!
This beautiful handmade Mukluk with rabbit fur trim and sheepskin lineing, is super warm and ICONIC!
💯  Made in Saskatoon,Canada
🦋 With proud partnership with the Anishinabek Elders
Traditionally inspired North American Mukluks with a twist, featuring Icon's signature art prints. Our rubber soled mukluks are made with soft cow suede complemented with a warm and cozy sheepskin foot lining.
Handmade in Canada
The footbed is lined with a thick, warm, and cozy sheepskin
Mukluks should fit snug, as the leather will stretch up to a half size and conform to your feet with wear.
It is normal for toes to touch the end of the mukluk but toes should not feel undue pressure.
May be slightly different from the picture