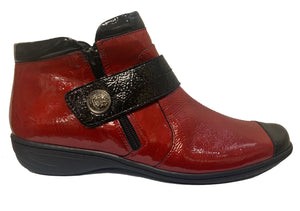 Geo Reino "Istadon" Red/Black - Short Boot
This stand-out leather bootie in a vibrant red/black combo is a perfect addition to your Fall wardobe! Patent leather upper, trendy design for ultra comfortable shoes, a very flexible upper and sole, removable insole.
Geo Reino shoes are designed to enjoy a healthy and active lifestyle on the assumption that when your feet feel good that your whole body feels good.