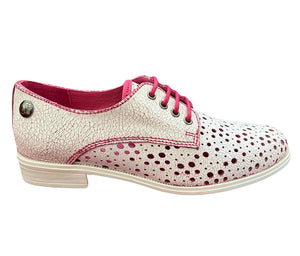 Chanii B "Cordon" White/Pink Crackle - Perforated Sneaker
Cordon is a flat lace up shoe, in a brand new trendy white/pink cackle combo! 
Leather upper/lined with perforations, your feet will be able to breathe and stay cool throughout the summer, no matter what you are doing.
Perforated detailing
Flexible rubber sole
Soft & light
Long fitting
Great wide fit
No seams - perfect for bunions!
Made in Portugal.